We are very proud to be raising funds once again this October for Breast Cancer. milk_shake® have changed their iconic yellow packaging for a beautiful pastel pink with white dots and will mark the 25th anniversary of October's #BreastCancerAwareness Month by celebrating pink.
Salon owners and stylists across the UK and Ireland are being encouraged to share their beautiful #pinkhair created with milk_shake® colours as part of the #youareincredible campaign 💕🎀
With every bottle of limited edition, milk_shake Incredible Milk Pink purchased, milk_shake® will donate £1.00 to charity.
milk_shake® Incredible Milk is one of milk_shake's multi-award winning hero products. The much-loved multi-tasker is perfect for all hair types and has been made with a beautiful blend of natural ingredients including organic murumuru butter, fruit extracts (bilberry, raspberry, papaya, mango) and milk proteins.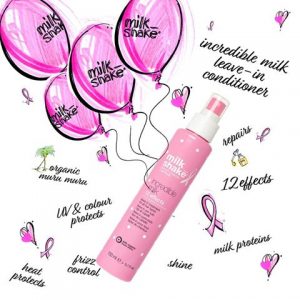 The benefits of Incredible Milk are as below:
Repairs all hair types
Controls frizz
Prevents split ends
Protects from heat
Improves hold
Exceptional detangling
Extreme shine
Gives hair body and volume
Improves the effects of straighteners and/or straightening irons
Protects and maintains colour
Proteins against UV rays
Smoothes the cuticle
Directions for use: spray onto towel-dried or dry hair. Massage and then style as desired.
Come in store today to pick up your special edition products.